Ronaldo gives Koval the eyes, sends the keeper diving to his right, and slams the ball down the middle. That's his first goal of the season!

","elementId":"c1117813-3155-4205-9fa0-f6526f401e00″}],"attributes":{"pinned":false,"keyEvent":true,"summary":false},"blockCreatedOn":1663262645000,"blockCreatedOnDisplay":"13.24 EDT","blockLastUpdated":1663262713000,"blockLastUpdatedDisplay":"13.25 EDT","blockFirstPublished":1663262713000,"blockFirstPublishedDisplay":"13.25 EDT","blockFirstPublishedDisplayNoTimezone":"13.25″,"title":"GOAL! Sheriff 0-2 Manchester United (Ronaldo 39 pen)","contributors":[],"primaryDateLine":"Thu 15 Sep 2022 13.25 EDT","secondaryDateLine":"First published on Thu 15 Sep 2022 11.45 EDT"},{"id":"63235f788f083f878e70e237″,"elements":[{"_type":"model.dotcomrendering.pageElements.TextBlockElement","html":"

38 min: Antony wedges down the right for Dalot, who races into the box after the ball. Before he can get there, Kpozo clips him from behind. Penalty! Kpozo goes into the book for his panicked lunge.

","elementId":"f5dbd15f-e1cc-41d9-b3d6-027e97511c40″}],"attributes":{"pinned":false,"keyEvent":true,"summary":false},"blockCreatedOn":1663262584000,"blockCreatedOnDisplay":"13.23 EDT","blockLastUpdated":1663262640000,"blockLastUpdatedDisplay":"13.24 EDT","blockFirstPublished":1663262640000,"blockFirstPublishedDisplay":"13.24 EDT","blockFirstPublishedDisplayNoTimezone":"13.24″,"title":"Penalty for United!","contributors":[],"primaryDateLine":"Thu 15 Sep 2022 13.25 EDT","secondaryDateLine":"First published on Thu 15 Sep 2022 11.45 EDT"},{"id":"63235a998f0836766296ccb1″,"elements":[{"_type":"model.dotcomrendering.pageElements.TextBlockElement","html":"

United come again, and take the lead with a lovely goal. Eriksen takes a step down the middle, surveys the terrain, then rolls a pass into the Sheriff box for Sancho, who shifts the ball to his left, then swivels and sweeps a precise shot into the bottom right. That's such an assured finish.

","elementId":"289af78b-252d-45e0-931a-76f1e18d699b"},{"_type":"model.dotcomrendering.pageElements.ImageBlockElement","media":{"allImages":[{"index":0,"fields":{"height":"2056″,"width":"3500″},"mediaType":"Image","mimeType":"image/jpeg","url":"https://media.guim.co.uk/612e72076016f9548271e3c48e08ea2edb9824fc/0_0_3500_2056/3500.jpg"},{"index":1,"fields":{"isMaster":"true","height":"2056″,"width":"3500″},"mediaType":"Image","mimeType":"image/jpeg","url":"https://media.guim.co.uk/612e72076016f9548271e3c48e08ea2edb9824fc/0_0_3500_2056/master/3500.jpg"},{"index":2,"fields":{"height":"1175″,"width":"2000″},"mediaType":"Image","mimeType":"image/jpeg","url":"https://media.guim.co.uk/612e72076016f9548271e3c48e08ea2edb9824fc/0_0_3500_2056/2000.jpg"},{"index":3,"fields":{"height":"587″,"width":"1000″},"mediaType":"Image","mimeType":"image/jpeg","url":"https://media.guim.co.uk/612e72076016f9548271e3c48e08ea2edb9824fc/0_0_3500_2056/1000.jpg"},{"index":4,"fields":{"height":"294″,"width":"500″},"mediaType":"Image","mimeType":"image/jpeg","url":"https://media.guim.co.uk/612e72076016f9548271e3c48e08ea2edb9824fc/0_0_3500_2056/500.jpg"},{"index":5,"fields":{"height":"82″,"width":"140″},"mediaType":"Image","mimeType":"image/jpeg","url":"https://media.guim.co.uk/612e72076016f9548271e3c48e08ea2edb9824fc/0_0_3500_2056/140.jpg"}]},"data":{"alt":"Jadon Sancho pounces to give Manchester United the lead.","caption":"Jadon Sancho pounces to give Manchester United the lead.","credit":"Photograph: Peter Cziborra/Action Images/Reuters"},"displayCredit":true,"role":"inline","imageSources":[{"weighting":"inline","srcSet":[{"src":"https://i.guim.co.uk/img/media/612e72076016f9548271e3c48e08ea2edb9824fc/0_0_3500_2056/master/3500.jpg?width=620&quality=85&auto=format&fit=max&s=6fae7d8a10948698e5f9266ac650ec62″,"width":620},{"src":"https://i.guim.co.uk/img/media/612e72076016f9548271e3c48e08ea2edb9824fc/0_0_3500_2056/master/3500.jpg?width=620&quality=45&auto=format&fit=max&dpr=2&s=adca6fe727d7571f908c73c52b5ed95d","width":1240},{"src":"https://i.guim.co.uk/img/media/612e72076016f9548271e3c48e08ea2edb9824fc/0_0_3500_2056/master/3500.jpg?width=605&quality=85&auto=format&fit=max&s=33a5f652675cd5546f358e199aa35210″,"width":605},{"src":"https://i.guim.co.uk/img/media/612e72076016f9548271e3c48e08ea2edb9824fc/0_0_3500_2056/master/3500.jpg?width=605&quality=45&auto=format&fit=max&dpr=2&s=ceaa9db5e808b8c9fa780ad40a999135″,"width":1210},{"src":"https://i.guim.co.uk/img/media/612e72076016f9548271e3c48e08ea2edb9824fc/0_0_3500_2056/master/3500.jpg?width=445&quality=85&auto=format&fit=max&s=33d7d1af51fc5a608623a0ed5c9e91d2″,"width":445},{"src":"https://i.guim.co.uk/img/media/612e72076016f9548271e3c48e08ea2edb9824fc/0_0_3500_2056/master/3500.jpg?width=445&quality=45&auto=format&fit=max&dpr=2&s=df2b0098297c712babf259981aae586d","width":890}]},{"weighting":"thumbnail","srcSet":[{"src":"https://i.guim.co.uk/img/media/612e72076016f9548271e3c48e08ea2edb9824fc/0_0_3500_2056/master/3500.jpg?width=140&quality=85&auto=format&fit=max&s=a7dd8e9d607254f818b4ae9f88dd8307″,"width":140},{"src":"https://i.guim.co.uk/img/media/612e72076016f9548271e3c48e08ea2edb9824fc/0_0_3500_2056/master/3500.jpg?width=140&quality=45&auto=format&fit=max&dpr=2&s=11e245ba50814349fea5a2eeb6411c9f","width":280},{"src":"https://i.guim.co.uk/img/media/612e72076016f9548271e3c48e08ea2edb9824fc/0_0_3500_2056/master/3500.jpg?width=120&quality=85&auto=format&fit=max&s=f04d961bafd6ace9d6c5b8157c0537e4″,"width":120},{"src":"https://i.guim.co.uk/img/media/612e72076016f9548271e3c48e08ea2edb9824fc/0_0_3500_2056/master/3500.jpg?width=120&quality=45&auto=format&fit=max&dpr=2&s=0c85b5df24574c30557b98e32251e820″,"width":240}]},{"weighting":"supporting","srcSet":[{"src":"https://i.guim.co.uk/img/media/612e72076016f9548271e3c48e08ea2edb9824fc/0_0_3500_2056/master/3500.jpg?width=380&quality=85&auto=format&fit=max&s=c97c070a8d93cb6e6f6ce378fdf18472″,"width":380},{"src":"https://i.guim.co.uk/img/media/612e72076016f9548271e3c48e08ea2edb9824fc/0_0_3500_2056/master/3500.jpg?width=380&quality=45&auto=format&fit=max&dpr=2&s=528771b8665b407819a56b4c9e9c1fbb","width":760},{"src":"https://i.guim.co.uk/img/media/612e72076016f9548271e3c48e08ea2edb9824fc/0_0_3500_2056/master/3500.jpg?width=300&quality=85&auto=format&fit=max&s=c3250a2a31e54cf02463beda6f31efec","width":300},{"src":"https://i.guim.co.uk/img/media/612e72076016f9548271e3c48e08ea2edb9824fc/0_0_3500_2056/master/3500.jpg?width=300&quality=45&auto=format&fit=max&dpr=2&s=2e2dffa167bd7c33a561248ae529d203″,"width":600},{"src":"https://i.guim.co.uk/img/media/612e72076016f9548271e3c48e08ea2edb9824fc/0_0_3500_2056/master/3500.jpg?width=620&quality=85&auto=format&fit=max&s=6fae7d8a10948698e5f9266ac650ec62″,"width":620},{"src":"https://i.guim.co.uk/img/media/612e72076016f9548271e3c48e08ea2edb9824fc/0_0_3500_2056/master/3500.jpg?width=620&quality=45&auto=format&fit=max&dpr=2&s=adca6fe727d7571f908c73c52b5ed95d","width":1240},{"src":"https://i.guim.co.uk/img/media/612e72076016f9548271e3c48e08ea2edb9824fc/0_0_3500_2056/master/3500.jpg?width=605&quality=85&auto=format&fit=max&s=33a5f652675cd5546f358e199aa35210″,"width":605},{"src":"https://i.guim.co.uk/img/media/612e72076016f9548271e3c48e08ea2edb9824fc/0_0_3500_2056/master/3500.jpg?width=605&quality=45&auto=format&fit=max&dpr=2&s=ceaa9db5e808b8c9fa780ad40a999135″,"width":1210},{"src":"https://i.guim.co.uk/img/media/612e72076016f9548271e3c48e08ea2edb9824fc/0_0_3500_2056/master/3500.jpg?width=445&quality=85&auto=format&fit=max&s=33d7d1af51fc5a608623a0ed5c9e91d2″,"width":445},{"src":"https://i.guim.co.uk/img/media/612e72076016f9548271e3c48e08ea2edb9824fc/0_0_3500_2056/master/3500.jpg?width=445&quality=45&auto=format&fit=max&dpr=2&s=df2b0098297c712babf259981aae586d","width":890}]},{"weighting":"showcase","srcSet":[{"src":"https://i.guim.co.uk/img/media/612e72076016f9548271e3c48e08ea2edb9824fc/0_0_3500_2056/master/3500.jpg?width=860&quality=85&auto=format&fit=max&s=4895afa95e4f1b1aa931adbb8a808ea6″,"width":860},{"src":"https://i.guim.co.uk/img/media/612e72076016f9548271e3c48e08ea2edb9824fc/0_0_3500_2056/master/3500.jpg?width=860&quality=45&auto=format&fit=max&dpr=2&s=fc70a2c6eb3db284cb3539f224e98a8f","width":1720},{"src":"https://i.guim.co.uk/img/media/612e72076016f9548271e3c48e08ea2edb9824fc/0_0_3500_2056/master/3500.jpg?width=780&quality=85&auto=format&fit=max&s=02317bf7734d1c76b7f1cdd35bd5442c","width":780},{"src":"https://i.guim.co.uk/img/media/612e72076016f9548271e3c48e08ea2edb9824fc/0_0_3500_2056/master/3500.jpg?width=780&quality=45&auto=format&fit=max&dpr=2&s=2f537a5c697afbf7b38281636232e48e","width":1560},{"src":"https://i.guim.co.uk/img/media/612e72076016f9548271e3c48e08ea2edb9824fc/0_0_3500_2056/master/3500.jpg?width=620&quality=85&auto=format&fit=max&s=6fae7d8a10948698e5f9266ac650ec62″,"width":620},{"src":"https://i.guim.co.uk/img/media/612e72076016f9548271e3c48e08ea2edb9824fc/0_0_3500_2056/master/3500.jpg?width=620&quality=45&auto=format&fit=max&dpr=2&s=adca6fe727d7571f908c73c52b5ed95d","width":1240},{"src":"https://i.guim.co.uk/img/media/612e72076016f9548271e3c48e08ea2edb9824fc/0_0_3500_2056/master/3500.jpg?width=605&quality=85&auto=format&fit=max&s=33a5f652675cd5546f358e199aa35210″,"width":605},{"src":"https://i.guim.co.uk/img/media/612e72076016f9548271e3c48e08ea2edb9824fc/0_0_3500_2056/master/3500.jpg?width=605&quality=45&auto=format&fit=max&dpr=2&s=ceaa9db5e808b8c9fa780ad40a999135″,"width":1210},{"src":"https://i.guim.co.uk/img/media/612e72076016f9548271e3c48e08ea2edb9824fc/0_0_3500_2056/master/3500.jpg?width=445&quality=85&auto=format&fit=max&s=33d7d1af51fc5a608623a0ed5c9e91d2″,"width":445},{"src":"https://i.guim.co.uk/img/media/612e72076016f9548271e3c48e08ea2edb9824fc/0_0_3500_2056/master/3500.jpg?width=445&quality=45&auto=format&fit=max&dpr=2&s=df2b0098297c712babf259981aae586d","width":890}]},{"weighting":"halfwidth","srcSet":[{"src":"https://i.guim.co.uk/img/media/612e72076016f9548271e3c48e08ea2edb9824fc/0_0_3500_2056/master/3500.jpg?width=620&quality=85&auto=format&fit=max&s=6fae7d8a10948698e5f9266ac650ec62″,"width":620},{"src":"https://i.guim.co.uk/img/media/612e72076016f9548271e3c48e08ea2edb9824fc/0_0_3500_2056/master/3500.jpg?width=620&quality=45&auto=format&fit=max&dpr=2&s=adca6fe727d7571f908c73c52b5ed95d","width":1240},{"src":"https://i.guim.co.uk/img/media/612e72076016f9548271e3c48e08ea2edb9824fc/0_0_3500_2056/master/3500.jpg?width=605&quality=85&auto=format&fit=max&s=33a5f652675cd5546f358e199aa35210″,"width":605},{"src":"https://i.guim.co.uk/img/media/612e72076016f9548271e3c48e08ea2edb9824fc/0_0_3500_2056/master/3500.jpg?width=605&quality=45&auto=format&fit=max&dpr=2&s=ceaa9db5e808b8c9fa780ad40a999135″,"width":1210},{"src":"https://i.guim.co.uk/img/media/612e72076016f9548271e3c48e08ea2edb9824fc/0_0_3500_2056/master/3500.jpg?width=445&quality=85&auto=format&fit=max&s=33d7d1af51fc5a608623a0ed5c9e91d2″,"width":445},{"src":"https://i.guim.co.uk/img/media/612e72076016f9548271e3c48e08ea2edb9824fc/0_0_3500_2056/master/3500.jpg?width=445&quality=45&auto=format&fit=max&dpr=2&s=df2b0098297c712babf259981aae586d","width":890}]},{"weighting":"immersive","srcSet":[{"src":"https://i.guim.co.uk/img/media/612e72076016f9548271e3c48e08ea2edb9824fc/0_0_3500_2056/master/3500.jpg?width=1900&quality=85&auto=format&fit=max&s=a29e647fbe10f8c6ba0902ad3980fc2a","width":1900},{"src":"https://i.guim.co.uk/img/media/612e72076016f9548271e3c48e08ea2edb9824fc/0_0_3500_2056/master/3500.jpg?width=1900&quality=45&auto=format&fit=max&dpr=2&s=7278a18837f2f55847266644cb97c0a0″,"width":3800},{"src":"https://i.guim.co.uk/img/media/612e72076016f9548271e3c48e08ea2edb9824fc/0_0_3500_2056/master/3500.jpg?width=1300&quality=85&auto=format&fit=max&s=64803ad0e8892b71da49ed0f356e9094″,"width":1300},{"src":"https://i.guim.co.uk/img/media/612e72076016f9548271e3c48e08ea2edb9824fc/0_0_3500_2056/master/3500.jpg?width=1300&quality=45&auto=format&fit=max&dpr=2&s=ac010cf218fcc61830e50fe398a8af28″,"width":2600},{"src":"https://i.guim.co.uk/img/media/612e72076016f9548271e3c48e08ea2edb9824fc/0_0_3500_2056/master/3500.jpg?width=1140&quality=85&auto=format&fit=max&s=2770a7cc96a1107d548058e7b465847c","width":1140},{"src":"https://i.guim.co.uk/img/media/612e72076016f9548271e3c48e08ea2edb9824fc/0_0_3500_2056/master/3500.jpg?width=1140&quality=45&auto=format&fit=max&dpr=2&s=058515502302ccdfcfbb9174425ef4c5″,"width":2280},{"src":"https://i.guim.co.uk/img/media/612e72076016f9548271e3c48e08ea2edb9824fc/0_0_3500_2056/master/3500.jpg?width=980&quality=85&auto=format&fit=max&s=0fc33cde2a6dcda6302fdeff55abbb6b","width":980},{"src":"https://i.guim.co.uk/img/media/612e72076016f9548271e3c48e08ea2edb9824fc/0_0_3500_2056/master/3500.jpg?width=980&quality=45&auto=format&fit=max&dpr=2&s=bdae17d7595d1d1203d80bbdf5d9a446″,"width":1960},{"src":"https://i.guim.co.uk/img/media/612e72076016f9548271e3c48e08ea2edb9824fc/0_0_3500_2056/master/3500.jpg?width=740&quality=85&auto=format&fit=max&s=403f4088a13b1c52e18a09c886de8f8b","width":740},{"src":"https://i.guim.co.uk/img/media/612e72076016f9548271e3c48e08ea2edb9824fc/0_0_3500_2056/master/3500.jpg?width=740&quality=45&auto=format&fit=max&dpr=2&s=a672e9c8dc701453e34b2280102cdad2″,"width":1480},{"src":"https://i.guim.co.uk/img/media/612e72076016f9548271e3c48e08ea2edb9824fc/0_0_3500_2056/master/3500.jpg?width=660&quality=85&auto=format&fit=max&s=9a8ecb7b1e1724d92486861fbeaf676c","width":660},{"src":"https://i.guim.co.uk/img/media/612e72076016f9548271e3c48e08ea2edb9824fc/0_0_3500_2056/master/3500.jpg?width=660&quality=45&auto=format&fit=max&dpr=2&s=da1ec493f4381447570db5a6786b2c48″,"width":1320},{"src":"https://i.guim.co.uk/img/media/612e72076016f9548271e3c48e08ea2edb9824fc/0_0_3500_2056/master/3500.jpg?width=480&quality=85&auto=format&fit=max&s=9e5523b48b4197816931321bf60d30b4″,"width":480},{"src":"https://i.guim.co.uk/img/media/612e72076016f9548271e3c48e08ea2edb9824fc/0_0_3500_2056/master/3500.jpg?width=480&quality=45&auto=format&fit=max&dpr=2&s=afbd0fef21f898de492119ac263f1942″,"width":960}]}],"elementId":"e240d5d5-1d81-4d41-9406-63e406df02c0″}],"attributes":{"pinned":false,"keyEvent":true,"summary":false},"blockCreatedOn":1663261337000,"blockCreatedOnDisplay":"13.02 EDT","blockLastUpdated":1663261813000,"blockLastUpdatedDisplay":"13.10 EDT","blockFirstPublished":1663261425000,"blockFirstPublishedDisplay":"13.03 EDT","blockFirstPublishedDisplayNoTimezone":"13.03″,"title":"GOAL! Sheriff 0-1 Manchester United (Sancho 17)","contributors":[],"primaryDateLine":"Thu 15 Sep 2022 13.25 EDT","secondaryDateLine":"First published on Thu 15 Sep 2022 11.45 EDT"},{"id":"632348a38f083f878e70e0ed","elements":[{"_type":"model.dotcomrendering.pageElements.TextBlockElement","html":"

Sheriff: Koval, Zohouri, Gabi, Radeljic, Kpozo, Badolo, Kyabou, Diop, Rasheed, Atiemwen, Ouattara.
Subs: Celeadnic, Heron, Felipe Vizeu, Darankoum, Salifu, Pernambuco, Pascenco, Guedes.

","elementId":"3d9d4cd7-2610-4c25-a8d3-2addba0b06cd"},{"_type":"model.dotcomrendering.pageElements.TextBlockElement","html":"

Manchester United: de Gea, Dalot, Varane, Martinez, Malacia, McTominay, Eriksen, Antony, Bruno Fernandes, Sancho, Ronaldo.
Subs: Lindelof, Maguire, Fred, Casemiro, Heaton, Shaw, Elanga, Garnacho, Iqbal, McNeill, Vitek.

","elementId":"77f44951-a3f7-4a57-9b2d-6c54965cb141″},{"_type":"model.dotcomrendering.pageElements.TextBlockElement","html":"

Referee: Pawel Raczkowski (Poland).

","elementId":"24cc04a5-c13e-4b08-8d92-3228bfdebe9f"}],"attributes":{"pinned":false,"keyEvent":true,"summary":false},"blockCreatedOn":1663256739000,"blockCreatedOnDisplay":"11.45 EDT","blockLastUpdated":1663256839000,"blockLastUpdatedDisplay":"11.47 EDT","blockFirstPublished":1663256839000,"blockFirstPublishedDisplay":"11.47 EDT","blockFirstPublishedDisplayNoTimezone":"11.47″,"title":"The teams","contributors":[],"primaryDateLine":"Thu 15 Sep 2022 13.25 EDT","secondaryDateLine":"First published on Thu 15 Sep 2022 11.45 EDT"},{"id":"6322e5a98f0894b39b47f659″,"elements":[{"_type":"model.dotcomrendering.pageElements.TextBlockElement","html":"

"When you lose the first game, you have to win the second, so we know what our task is." Erik ten Hag, ladies and gentlemen, distilling this match into pure dramatic tincture. Sip up! Kick off is at 5.45pm BST. It's on!

","elementId":"e4eb1245-bfa8-4355-8c2a-37862419e35b"}],"attributes":{"pinned":false,"keyEvent":true,"summary":false},"blockCreatedOn":1663256701000,"blockCreatedOnDisplay":"11.45 EDT","blockLastUpdated":1663249323000,"blockLastUpdatedDisplay":"09.42 EDT","blockFirstPublished":1663256701000,"blockFirstPublishedDisplay":"11.45 EDT","blockFirstPublishedDisplayNoTimezone":"11.45″,"title":"Preamble","contributors":[],"primaryDateLine":"Thu 15 Sep 2022 13.25 EDT","secondaryDateLine":"First published on Thu 15 Sep 2022 11.45 EDT"}],"filterKeyEvents":false,"format":{"display":0,"theme":2,"design":10},"id":"key-events-carousel-mobile"}">

main events
Goal! Sharif 0-2 Manchester United (Ronaldo 39 penalty kicks)
Ronaldo gives his eyes to Koval, sends the goalkeeper to his right and hits the ball in the middle. This is his first goal this season!
Penalty kick for Manchester United!
38 minutes: Anthony rolls down the right for Dalot, who rushes into the penalty area after the ball. Before he could get there, Kpozo sliced ​​him in the back. Penalty! Kpozo goes to the book because of his panicked rush.
37 minutes: United is close to achieving second place! Koval plays a shocking ball from behind, right at Anthony. United three in one! Anthony exposes Sancho on his left. Sancho takes a touch and makes a low shot past Koval and… just outside the line by Radilić!
35 minutes: Another free kick for Manchester United off the left flank. Eriksen sends the ball into the penalty area. Any touch when you drop, six yards, and that's a target. But Varane can't comb his toe on it, and Koval claims it hits the area. What a delivery it was. Just begging to be put away.
34 minutes: Anthony, who has done very little so far, was given a long talk by the referee for leaving something on Kpozo.
33 minutes: Ronaldo catches a speculative long pass down the right inner channel. It fires it high and wide from a narrow angle.
32 minutes: Diop leads to the bottom right and elegantly cuts the interior. He fired a low cross into the penalty area. Martinez allows. Sherif Come again, though, Kpozo down left. Kpozo shoots from an optimistic distance. Forbidden. Rasheed tries to soften one of the more absurd group. His shot threatens the right corner flag .. goal kick.
30 minutes: Ronaldo makes a pass to the left for Malacia, who are back off the sideline. Sancho has the ball but the box is too crowded, he can't shoot the ball away or return the ball to Ronaldo. Sherif Erase their lines.
28 minutes: Rasheed protects the ball with his back to goal, 30 yards away. Martinez attacks him, but he takes his man to do so. Free kick, just to the left of the center. Attimoin's eyes light up…but though he's holding the ball up and down over the wall, it always flies wide and over, and de Gea has it covered anyway.
26 minutes: Free kick for Manchester United outside the left flank. Eriksen sends it flat to a file Sherif can. Varane can't get his header on goal. goal kick.
24 minutes: McTominay's pass from the right by Ronaldo and you can't put his head on it. United be patient and back again, this time down the left. Fernandez hook in the box. Ronaldo is still unhappy, but United appear confident when they attack.
22 minutes: Sherif Come this is About to tie. Rashid probes the left flank and cuts the wing backwards for Etimoine, who paces deliberately and hits the skin of a fierce tower toward the lower left corner. inch wide. Had he been on target, De Gea would not have been there.
21 minutes: This is also a big response from Sancho to his exclusion from the England squad. He celebrates the air of a quiet man who feels like he's just a point.
19 minutes: Sherif The better side was up to this goal, although United spent two minutes before finding their range and slowly starting to build something. Here we are!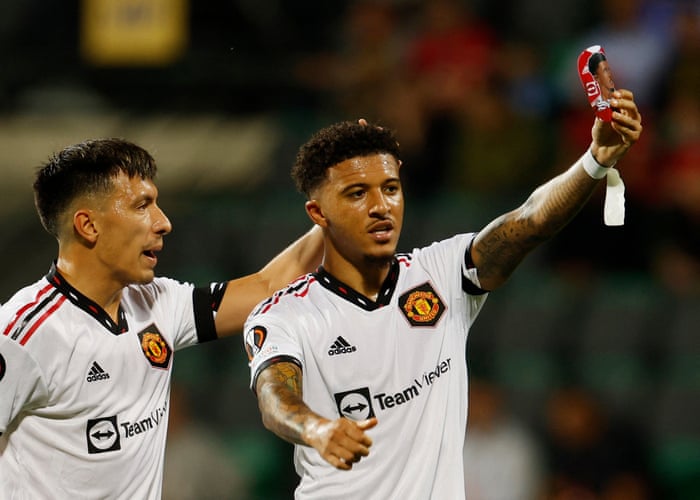 Goal! Sharif 0-1 Manchester United (Sancho 17)
United come again, take the lead with a beautiful goal. Eriksen takes a step down the middle, surveys the terrain, then passes a pass to Sherif Square for Sancho, who moves the ball to his left, then spins and makes an accurate shot at the bottom right. This is a guaranteed end.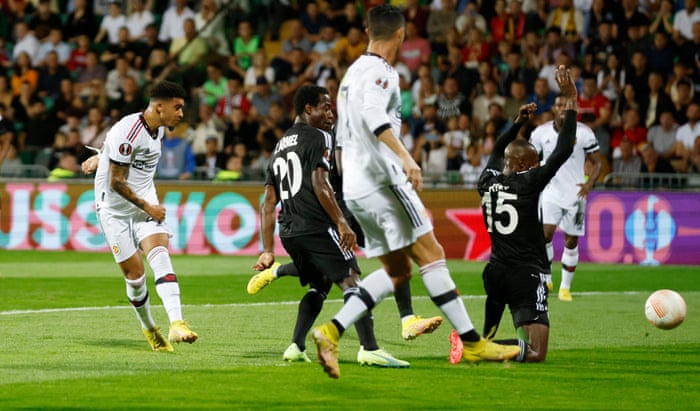 16 minutes: McTominay slides the ball to the left. Sancho picks it up and dangles along the sideline and into the trunk. Kiki comes to clear it up, but United are starting to work a little bit more ways now.
15 minutes: Eriksen, the midfielder from the depths, runs long down the right inner channel. The ball falls over Ronaldo's shoulder. He prepares to shoot, but he clears the ball through Kiki. Bounce the ball for a goal kick. An angry Ronaldo demands a penalty, but the referee – who has already shown a willingness to let things go – is not at all interested in awarding it. It's the right decision: Ronaldo fell too easily and it looked like a fair shoulder barge anyway.
13 minutes: McTominay makes a pointless challenge on Badolo, then nearly slips Ronaldo for free with a long pass down the middle. Kpozo objects to put an end to the old age.
12 minutes: Diop has a rake from a distance. Always fly miles up.
11 minutes: Ouattara runs in Malasia, bottom right again. He's been dragged backwards as he prepares for a quick capture, and the United defender is a bit lucky not to go into the book. Despite this, he may have exhausted all the advantages of doubt in the early game.
9 minutes: Ronaldo's weak touch, though with absolutely no pressure, allows Dudu to take the ball off his toe. That pretty much sums up United's phenomenal start in a nutshell.
7 minutes: Diop moves to the United penalty area from the right. Varane removes under pressure from Atiemwen. This is a sure start Sherif.
6 minutes: Ouattara was stormed by Malacia while rolling down the right seam. He simply bounces straight back and starts dribbling again. Refreshing position.
4 minutes: De Gea passes the ball out of play under pressure from Rashid. Nothing comes from the resulting throw, deep in the united lands, but Sherif Look for pressure on the goalkeeper, who is never more confident with the ball at his feet.
2 minutes: Kiki goes away looking for Rashid in the lead. Varane comes to clean easily enough.
United roll the ball. They swiped it a bit before possessing Dalot's ships. Kpozo tries to be good down the left but is running out of room. United get the ball back.
Here comes the difference! Sherif In black, and uniform in white in the second choice. Not a word from Eric Ten Hag. We'll be leaving in a minute.
Pre-match mailbag. "You have to wonder whether Casemiro was the manager's choice or another 'business decision' (panic buying) by the board," Neil Carter wrote. "Martínez and Anthony go straight to the squad however Casemiro remains on the bench because of McTominay's 'amazing form'. You pay £70m for a 30-year-old to play for sure? Geez."
Matching fitness problems, perhaps? Still not up to speed with the United/Ten Hag way, perhaps? Having said that, BT Sport has just shown a montage of the ex-Real Madrid man who adorably posted it around Old Trafford last week, so it couldn't be that far off. Paul Scholes was particularly purring after a pass that took out half of Sociedad's midfield with one nice kick from the corner. to a path It was.
A reminder of what happened against Real Sociedad last Thursday…
…and how that left Group E's schedule.
Manchester United are making five changes to the starting lineup selected for the 0-1 loss at home to Real Sociedad. Bruno Fernandez, Jadon Sancho, Scott McTominay, Lisandro Martinez and Raphael Varane advance; Harry Maguire, Fred, Casemiro, Anthony Ilanga and Victor Lindelof on the bench. With United not playing for a week and not playing after tonight until the Manchester derby on 2 October, Eric Ten Tag gives us a good idea of ​​his best squad here. Poor Harry.
Sherif: Koval, Zohouri, Gabi, Radelec, Copozzo, Badulu, Quiapo, Diop, Rachid, Atimoine, Ouattara.
Subs: Seledenik, Heron, Philip Vizio, Darancom, Salivo, Pernambuco, Pascenko, Geddes.
Manchester United: De Gea, Dalot, Varane, Martinez, Malacia, McTominay, Eriksen, Anthony, Bruno Fernandez, Sancho and Ronaldo.
Subs: Lindelof, Maguire, Fred, Casemiro, Heaton, Shaw, Ilanga, Garnacho, Iqbal, McNeil, Vitek.
Rule: Paul Raczkowski (Poland).
"When you lose the first match, you have to win the second match, so we know what our mission is." Eric Ten Hag, ladies and gentlemen, drips this match into purely dramatic hue. sip! Kick off at 5.45pm GMT. It's up!