WWhen curators gathered in Paris to discuss curating a major retrospective of the work of Ukrainian photographer Boris Mikhailov, no one could have guessed how tragic and visual his final timing would be—or how he portrayed poverty in the Soviet Union and appalling hardship. Its repercussions will acquire new meaning in the wake of the Russian invasion of Ukraine And the destruction of his hometown, Kharkiv, which appears in many of his photos.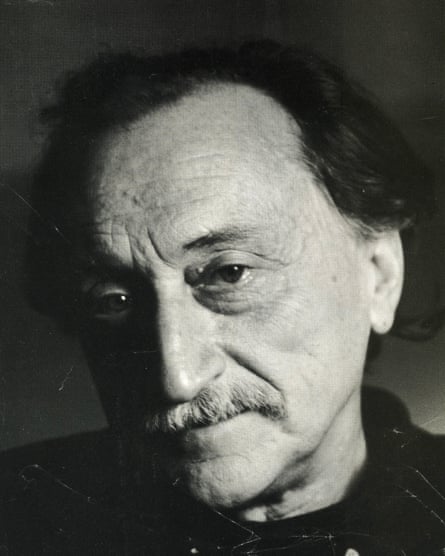 Mikhailov's blue series of 111 photos taken in the second largest city in newly independent post-Soviet Ukraine in 1991, titled At Dusk, is grim. There is little evidence of the so much boasted greatness of the Soviet Union as so proudly proclaimed by many leaders in Moscow. The system has changed, but the poverty and hardship in people's lives has not, as evidenced by stark photos of men, women, and children captured in the remains of a deserted urban landscape.
Kharkiv briefly emerged to become a thriving cosmopolitan city, although Mikhailov's photographs from the 2000s showing independence and capitalism brought colorful advertisements and billboards, but also an ocean of cheap plastic goods and plastic bags. Then Russia invaded Ukraine in February of this year.
"I would say that it is almost certain that most, if not all, of the buildings and places in the photographs no longer exist," says Laurie Horowitz, curator of a major retrospective of Mikhailov's work at the European House of Photography (MEP) in Paris. "It brings tears to the eye to know that they have been bombed and destroyed.
"It is hard to believe what Mikhailov lived before. This exhibition is difficult and beautiful and still gives me goosebumps that I thought I walked through it every day."
One photo called The Theater of War, Second Act, Time Out, taken in 2013, shows a scene from Maidan Square in Kyiv where Ukrainian protesters pitched their tents.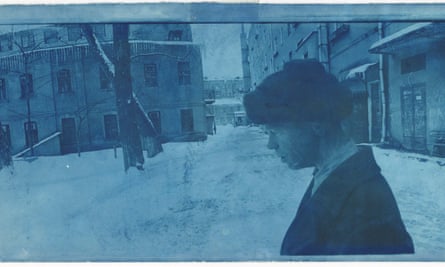 "Boris is very important now in all respects… He will not say what he thinks of Putin. He does not talk about what is going on now in Kharkiv but it is clearly affecting him. The roots of the war can be seen in his work," said Horowitz.
Mikhailov was born in 1938 in Kharkiv, trained as an engineer and taught photography himself. His early work was radical and destructive. He was a member of the Vremya splinter group, which later became the Kharkiv School of Photography, which profited from a slight liberalization of life known as the "Khrushchev Thaw" – after then-Soviet leader Nikita Khrushchev's successor Joseph Stalin – to reject the ideology of "Soviet realism".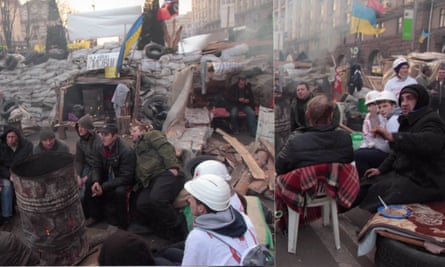 At the beginning of his engineering career, Mikhailov was given a camera and ordered to document work at the state-owned factory where he worked. He used it to take nude photos of his wife, Vita. He secretly developed it in the factory lab but was expelled after it was discovered by the Soviet authorities. Then, he made a living as a commercial photographer and later used copies of photos people sent him to enlarge or enhance to create artwork, using kitsch colors. In one, his passport photo, Mikhailov is shown in a green Serge Soviet military uniform; He decorated the jacket with Ukrainian embroidery and painted his lips red.
Secretly taken, 1986's Salt Lake series sepia photographs show the Soviets enjoying their "freedom" at a popular bathing spot in the Donbass region of southern Ukraine. Bathers believe that warm salt water has healing properties. In fact it was a highly polluted and poisoned industrial site surrounded by factories.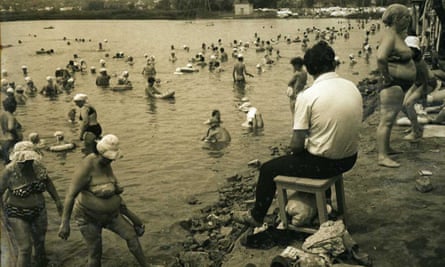 The Red Series, taken between 1965 and 1978, consists of 84 color photos taken in Kharkiv and contains the color red, the symbol of the revolution and the Soviet Empire. At dusk, a series of panoramas of Kharkiv in northeastern Ukraine, shaded in blue, a color Mikhailov said reminded him of World War II: "Blue to me is the color of siege, hunger and war."
The gallery also includes a number of photographs of Mikhailov, his wife and others in nude disguise, which led the Soviet authorities to describe his work as "pornographic".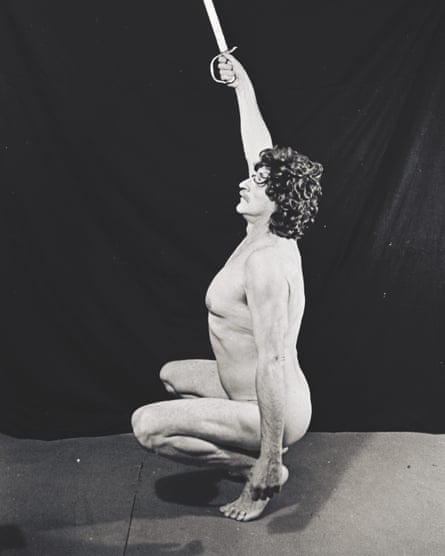 KGB agents regularly watched him, and his camera led him to suspect that he was a Western spy.
Before the Covid pandemic, Mikhailov divided his time between Kharkiv and Berlin, where he now lives permanently. He represented Ukraine at the Venice Biennale in 2007 and 2017, and has been shown at the Tate Modern, MoMA in New York, in Germany and in Kyiv.
The MEP exhibition, postponed from 2020 due to Covid, features 800 Mikhailov's works – the catalog is 2 inches thick – including projected photographs spanning six decades from the 1960s to 2019.
A short walk across Paris, Mikhailov is also celebrated at the Bourse de Commerce in Paris, where Pinault's collection features a photo show At Dusk as a supporting work by contemporary Albanian artist Anri Sala, whose 2011 short film, 1395 Days Without Red, highlights the war Others, the conflict in Bosnia and the prolonged siege of Sarajevo.
Simon Baker, MEP Director and former curator of the Tate Modern wrote: "Mikhailov remains one of the greatest and most famous photographic artists of his generation…working equally between documentary, performative and conceptual practices." Mikhailov's "memoirs" of life in Ukraine before and after the fall of the Soviet regime remind us of history The infinitely rich and resilient Ukrainian people."