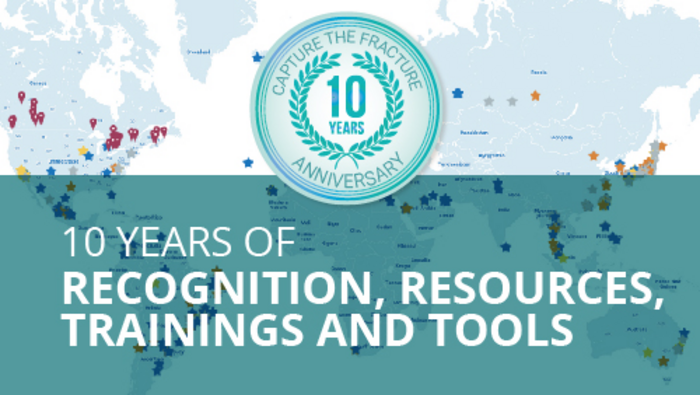 World Osteoporosis Day will be on October 20, 2022, 10 years since the official launch of Capture the Fracture® (CTF), a landmark program of the International Osteoporosis Foundation (IOF) that has helped drive progress in the prevention of secondary fractures worldwide.
Since its launch, CTF's network has grown rapidly from 53 FLS Communication Services (FLS) in its first year, to currently 778 FLS from 51 countries. The global program promotes the implementation, effectiveness and sustainability of post-fracture care coordination programs such as FLS in all regions of the world.
"With the number of fragility fractures rising globally due to an aging population, liaison services with fractures are urgently needed to reduce secondary fractures in the most severe patients," says Dr. Philip Halbot, CEO of IOF.
"We are extremely proud of the Capture The Fracture® initiative and its contribution to the prevention of secondary fractures. To date, we estimate that approximately 543,000 patients have received much-needed post-fracture care thanks to the efforts of fracture liaison services within the CTF network worldwide. This inspires us. To continue and expand our efforts to facilitate the implementation of new FLS plans worldwide, and support the improvement and sustainability of existing FLS programs through our educational and extension programs, as well as coalition efforts."
An important expansion of the CTF program occurred in 2019 with the launch of the Capture the Fracture® Partnership, an IOF initiative in partnership with Amgen and UCB, in association with the University of Oxford. This first-of-its-kind initiative has helped boost the reach and reach of the CTF program in 16 target countries across four distinct regions – Asia Pacific, Europe, Latin America and the Middle East, and has been instrumental in revitalizing interest in the implementation and development of FLS. Additionally, creating and supporting new national alliances is laying the groundwork for prioritizing primary and secondary osteoporosis and fracture prevention at the national level.
Why is there such a huge need for post-fracture care services like FLS? Anyone who has had a fragility fracture is at about five times greater risk of developing a second fracture. Looking at it from another perspective, we know that about half of patients with hip fractures have previously broken another bone. This first fracture was a red flag that should have prompted post-fracture care, including osteoporosis and management of fall prevention that would reduce the likelihood of fracture recurrence. Unfortunately, approximately 80% of fracture patients worldwide are simply repaired and sent home without the post-fracture care needed to prevent devastating secondary fractures, including hip fractures which are associated with high mortality, severe disability and loss of function in survivors.
Coordinator-based post-fracture care services such as FLSs are a proven solution. These hospital-based services systematically identify adults over 50 years of age who have had a broken bone, assess their risk of further fracture and ensure they receive anti-osteoporosis therapy and assess for falls. In this way, fracture patients do not fall through the fissures, but are instead given the long-term, multidisciplinary management needed to reduce their risk of secondary fractures.
Typically, the FLS team consists of fracture nurses, orthopedic surgeons, endocrinologists, rheumatologists, geriatricians, and physiotherapists – all working together to provide vital post-fracture care to thousands upon thousands of patients worldwide. On the occasion of the tenth anniversary of its founding, the families of the fracture® Create file New video And launched a social media campaign that will highlight the FLS networks within the network from all regions of the world. The campaign highlights the multidisciplinary expertise and tremendous team spirit behind the successful operation of any FLS (see FLS World Osteoporosis Day Appreciation Video).
Professor Cyrus Cooper, President of Opportunity International, concludes:
"World Osteoporosis Day is the perfect time to remind all healthcare authorities that there is a proven way to stop the devastating and costly cycle of recurrent fractures. All patients with fragility fractures should be screened and treated through a post-fracture care model such as the Fracture Liaison Service, which has been shown to reduce rates of restore fractures and deaths, and ultimately reduce the burden of fractures on health care systems."
"It is with great pride that we see the progress that has been made under Fracture Capture® Canopy in 10 years of operation. On this occasion, we especially thank the members of the CTF Steering Committee who dedicate their time and expertise to the programme, and we salute all the Rift Connection Services teams around the world who, through interdisciplinary collaboration and expertise, are making a real contribution to the Well. The existence and future independence of countless seniors around the world."
For more information about implementing FLS, to learn how to apply for a free assessment and recognition, and to view FLS within the Capture the Fracture® network, visit www.capturethefracture.org
###
About Fraction Capture®
pick up the fracture® (CTF) is a multi-stakeholder initiative led by the International Osteoporosis Foundation (IOF). The initiative hopes to bring about changes both locally and internationally, so that prevention of secondary fractures becomes a reality. Its goal is to establish global best practices for Fracture Liaison Services (FLS), while serving as a reference tool that clinics and hospitals can adhere to and aspire to and gain international recognition. The CTF program contains a variety of tools that provide essential resources and documentation to drive quality improvement in FLS; CTF also offers mentorship programs that support the development of FLS at the local level. The CTF network, which celebrates its 10th anniversary in 2022, currently has 778 FLSs in 51 countries around the world.
https://www.capturethefracture.org #CaptureTheFracture
About IOF
The International Osteoporosis Foundation (IOF) is the world's largest non-governmental organization dedicated to the prevention, diagnosis and treatment of osteoporosis and related musculoskeletal diseases. IO members, including committees of scientific researchers as well as 300 patients and medical and research societies, work together to make fracture prevention and health mobility a priority for healthcare around the world. https://www.osteoporosis.foundationiofbonehealth
About World Osteoporosis Day
World Osteoporosis Day is celebrated annually on October 20 to raise awareness of bone health and the prevention of osteoporosis. The campaign, this year under the slogan "Rise for Bone Health," calls on individuals around the world to take action for bone health and the prevention of osteoporosis.
http://www.worldosteoporosisday.org #WorldOsteoporosisDay
Official WOD Partners: Amgen, Sunsweet, Zuellig Pharma, Abbott, Pharmanovia, Theramex
---
Disclaimer: AAAS and EurekAlert! is not responsible for the accuracy of newsletters sent on EurekAlert! Through the contributing institutions or for the use of any information through the EurekAlert system.